This game was released on February 16, 2016 and is no longer available to pre-order. Any incentives that were offered are listed below.
Street Fighter V is the fifth main installment in Capcom's massively popular fighting game franchise. It is powered by Unreal Engine 4 and features cross-platform play between PC and PlayStation 4. The game will offer 16 characters (including four new ones) at launch, with more to be added later. Six additional characters should be available within a year after launch, unlockable using in-game currency.
The upcoming title also has some new gameplay mechanics, such as V-Skills which replace the Focus Attacks from SF4. Using those as well as taking damage will fill the new V-Gauge, which can then be used to perform V-Reversals (counterattacks while blocking) or V-Triggers (special moves or power-ups unique to each fighter).
Street Fighter V is now available on GamerSaloon – Where Gamers Play for Real Money.
Pre-order bonuses
Pre-order the console version of Street Fighter V from the retailers listed below to get beta access plus an alternate costume for one of the four characters:
PC gamers can get beta access and Chun-Li's Battle Costume by pre-purchasing SF5 on Steam.
Collector's Edition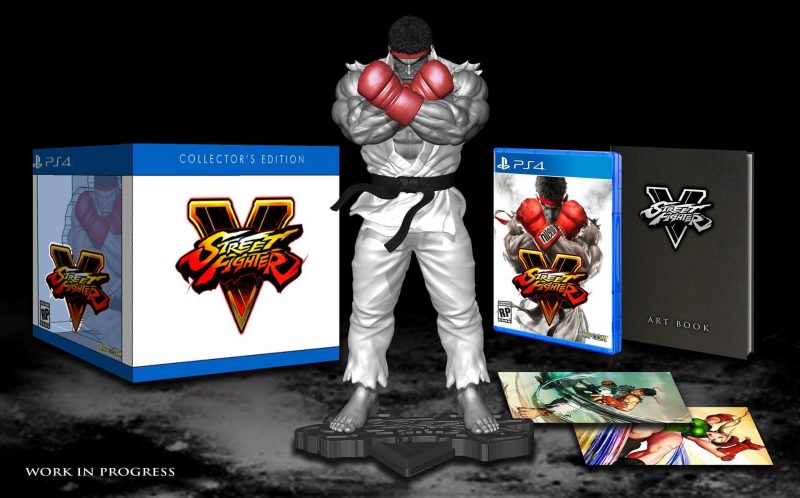 In addition to the game disk itself, this $100 Collector's Edition of Street Fighter 5 includes the following:
10″ fully-painted Ryu statue
48-page hardcover art book
Downloadable content:

Digital Street Fighter Comics from UDON
SFV Soundtrack Sampler
Free one-month subscription to the Capcom Fighters channel on Twitch (also available with the standard edition of the game)
Battle System trailer
The trailer demonstrates V-Skill, V-Reversal, V-Trigger, and Critical Arts mechanics for several characters.
Street Fighter V release is planned for February 16, 2016 in North America.
Check out our other upcoming fighting games and upcoming pc games.