This game was released on February 23, 2018 and is no longer available to pre-order. Any incentives that were offered are listed below.
Sword Art Online: Fatal Bullet is a JRPG and third-person shooter based on the popular anime and light novel series by Reki Kawahara. The game takes place in Gun Gale Online, a fictional VRMMO in which a player named Death Gun has started killing people in real life.
Unlike in the previous Sword Art Online games, the protagonist of Fatal Bullet is a custom character. The players have the option of going through the story solo or making a party of up to four members with customizable AI. There is also online multiplayer with co-op and competitive 4v4 modes.
Pre-order Bonuses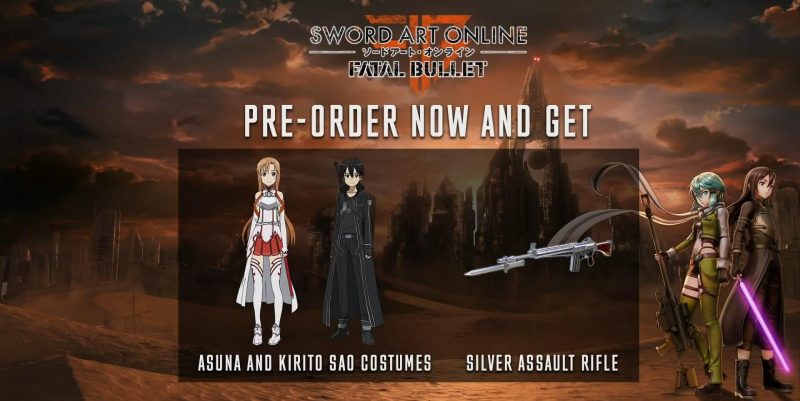 Pre-ordering Sword Art Online: Fatal Bullet anywhere unlocks SAO costumes for Kirito and Asuna, as well as the Silver Assault Rifle displayed above.
There's also a PS4 theme to be had by pre-ordering via PlayStation Store. Meanwhile, doing so via Steam will unlock tiered rewards based on the total number of pre-purchases received:
Tier 1: SAO Pack (as described above)
Tier 2: ALO Pack (ALfheim Online costumes for Asuna and Kirito, and the Gold Assault Rifle)
Tier 3: downloadable Sword Art Online Re: Hollow Fragment game
Deluxe Edition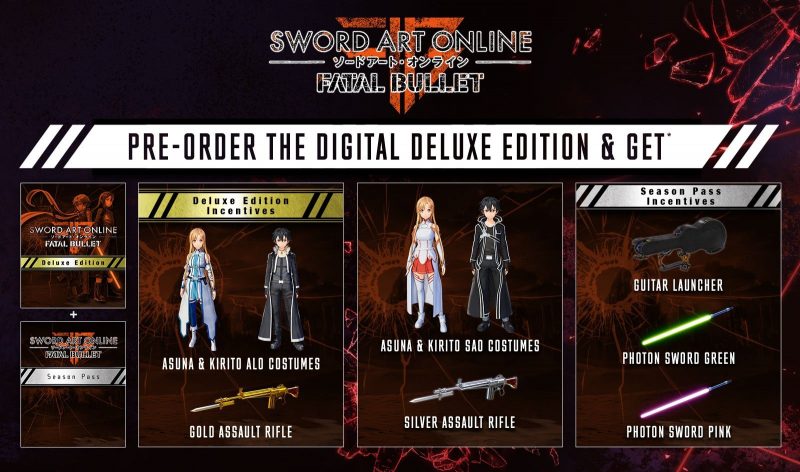 The Deluxe Edition adds a Season Pass on top of the base game. You get these bonuses for pre-ordering it:
ALfheim Online costumes for Asuna and Kirito
Gold Assault Rifle
As well as bonuses which come with the purchase of the Season Pass itself:
Guitar Launcher
Photon Sword (Green)
Photon Sword (Pink)
Phantom Edition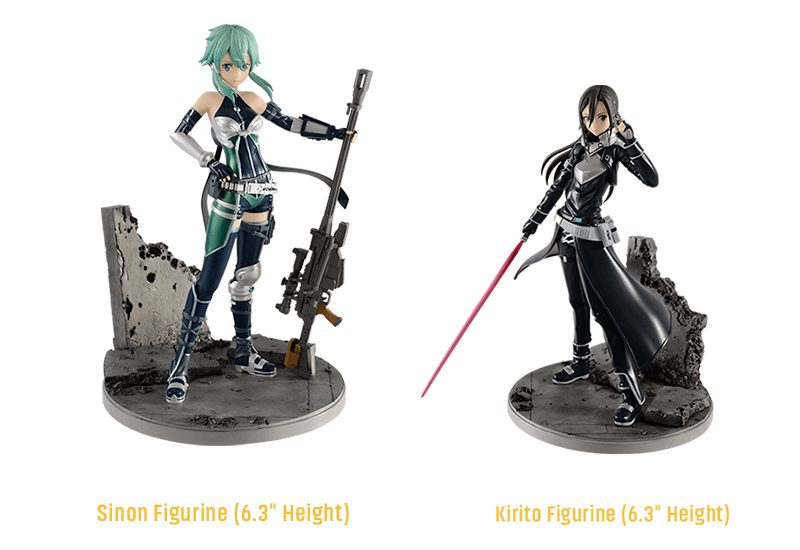 In North America, the collector's Phantom Edition is available exclusively through Bandai Namco Store. By paying $99.95 you will get the game itself, plus two 6.3″ tall figurines of Kirito and Asuna wearing costumes from Sword Art Online: Fatal Bullet as depicted above. This version is limited to just 1,000 units, and unlike the European CE one does not include an artbook nor a map.
Sword Art Online: Fatal Bullet is scheduled to launch on February 23, 2018 for Xbox One, PS4, and Steam.
Check out our other upcoming rpg games and upcoming pc games.