This game was released on April 25, 2017 and is no longer available to pre-order. Any incentives that were offered are listed below.
Syberia 3 is an upcoming adventure game developed by French studio Microïds, with story and design by Benoît Sokal. Like the previous installments, it follows American lawyer Kate Walker on her journey throughout fictionalized versions of Europe and Russia.
Syberia 3 begins with Kate being found on the edge of a river by the Youkole tribe, a nomadic people migrating with their snow ostriches. Stuck in Valsembor village, they must find a way to continue their journey together. The game features a brand new adventure, and is said to be "completely different" from the previous two Syberia titles.
Pre-order bonus
Pre-purchasing Syberia 3 via Steam or other digital marketplaces (HumbleBundle, etc.) gets you a free Digital Artbook.
Deluxe Edition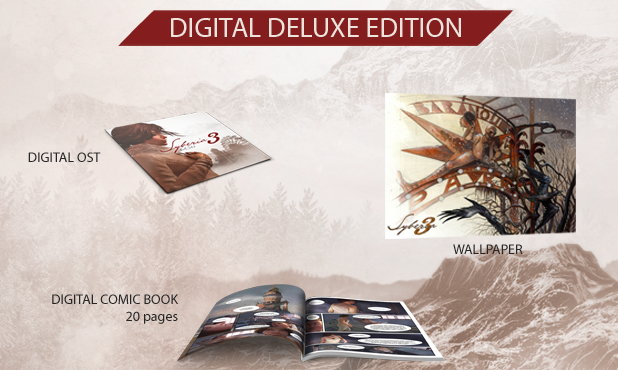 The digital Deluxe Edition ($49.99) bundles the base game with the soundtrack, the first 20 pages of the comic book, and one wallpaper.
Syberia III is scheduled for April 25 release in North America (April 20 in Europe). The game will be out for current-gen consoles (including Nintendo Switch, albeit at a later date) as well as Mac and Windows.
Check out our other upcoming adventure games and upcoming nintendo switch games.