Genre
Action, RPG
Platform

Release date
Sep 10, 2021
This game was released on September 10, 2021 and is no longer available to pre-order. Any incentives that were offered are listed below.
Tales of Arise is a Japanese role-playing game and is the 17th entry in the "Tales of" series of games. Developed and published by Bandai Namco, Tales of Arise lets you play as one of two characters; Alphen or Shionne. Two characters from very different worlds on a quest to change their fate and future. Tales of Arise will be coming to PlayStation 4, PlayStation 5, Xbox One, Xbox Series X/S and Windows PC this Autumn.
The game's story centers around Alphen, a slave from the planet Dahna who's lost his memory. And Shionne, a woman- cursed to hurt anyone that touches her- from the planet Rena. Learn of the circumstances that brought this unusual pair together and join them on their journey in this charming new RPG.
Embark on a journey through a number of beautiful semi open world maps as you experience a rich story with an all new cast of characters and an exciting new battle system.
Pre-order Bonuses
If you make a purchase through these links, we may get a share of the sale.
Standard Edition($59.99)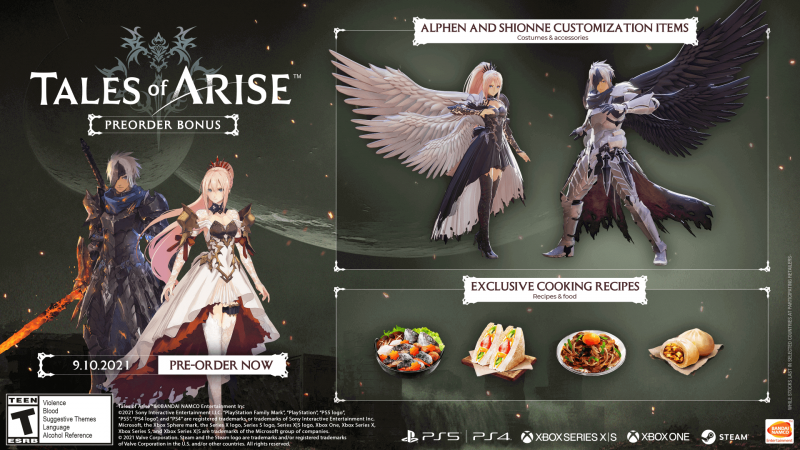 The Standard Edition of Tales of Arise comes bundled with the base game as well as some exclusive pre-order content such as:
Costumes and accessories for Alphen and Shionne:

Alphen – [Costume] Reconciler Armor
Shionne – [Costume] Noble Ash
Shionne – [Hairstyle] Void Black Tiara

16 food items and exclusive recipes
Deluxe Edition($84.99)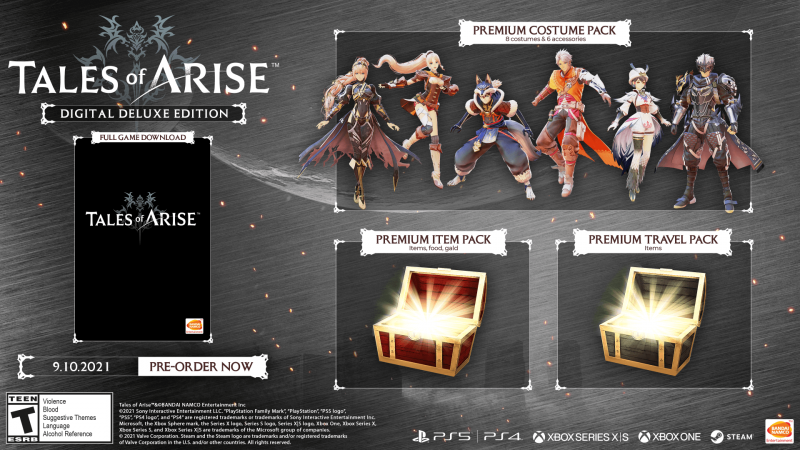 The Deluxe Edition comes packed with the base game, all the pre-order bonuses plus the Deluxe pack containing a set of premium items such as:
Premium Travel Pack
Adventurer's Pack (includes Premium Item Pack, Premium Costume Pack)
Ultimate Edition($109.99)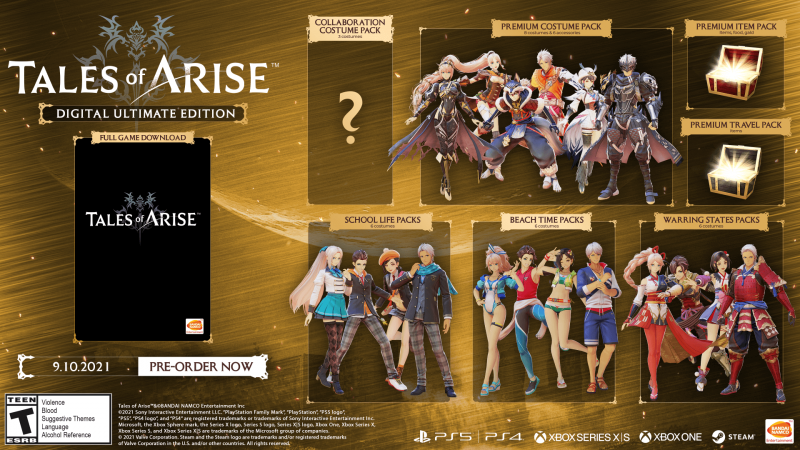 Tales of Arise Ultimate Edition covers all the pre-order and Deluxe content plus some exclusive Ultimate packs which include:
Collaboration Costume Pack: 3 costumes
School Life Packs: 6 costumes
Beach Time Packs: 6 costumes
Warring States Packs: 6 costumes
Collectors Edition($199.99)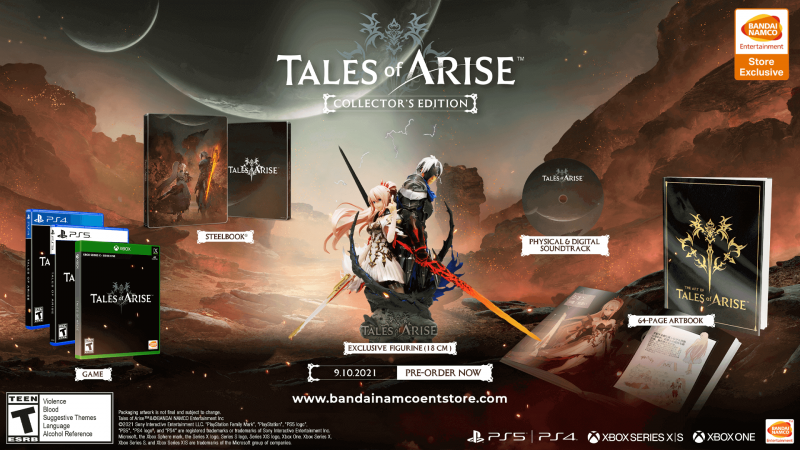 The Collectors Edition comes with the physical copy of the base game as well as a number of physical game merchandise on top of the content in the Deluxe and Ultimate Edition of the game. Include in this Edition is:
Exclusive 18-cm Alphen and Shionne figurine 
Steelbook case
64-page hardcover art book
Physical CD soundtrack
PlayStation
Xbox
PC
Tales of Arise will be released on September 10th 2021 and will be playable on PlayStation 4, PlayStation 5, Xbox One, Xbox Series X|S and PC.
Check out our other upcoming action games and upcoming pc games.