This game was released on June 08, 2021 and is no longer available to pre-order. Any incentives that were offered are listed below.
Blackwood is the next expansion, or chapter, for The Elder Scrolls Online fantasy MMORPG from Bethesda. As a part of the year-long Gates of Oblivion adventure, Blackwood features a total of 30 hours of story content. It includes the titular Blackwood zone, new Companion system, a 12-player Rockgrove Trial, Oblivion Portals world event, and more.
Like the previous expansions, Blackwood can be purchased as an upgrade or a standalone game (collection) with access to all the previous ESO chapters. Both of these options have standard and CE flavors for a total of four different editions. Pre-ordering any edition of Blackwood nets the same in-game bonuses that are detailed after the jump.
Pre-order Bonuses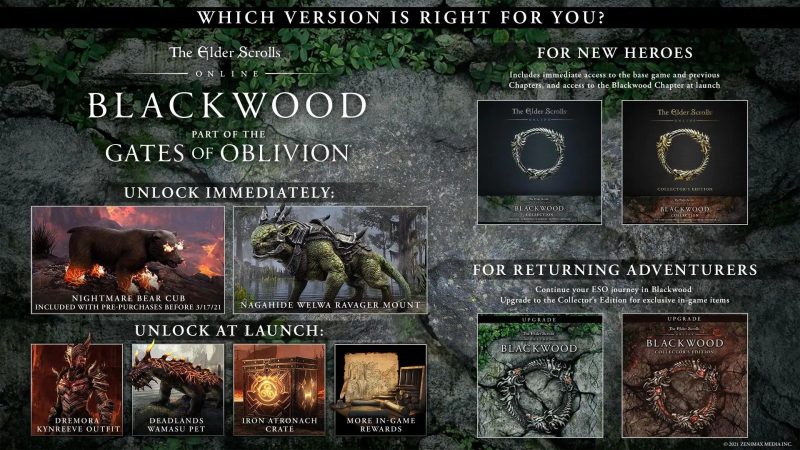 Pre-order The Elder Scrolls Online: Blackwood to receive the following in-game bonuses at launch:
Dremora Kynreeve Outfit
Deadlands Wamasu Pet
1× Iron Atronach Crate
3× Blackwood Treasure Maps
2× Experience Scrolls
Furthermore, if you pre-purchase Blackwood digitally, you will receive immediate access to the following:
The Blackwood upgrade alone costs $39.99, while the Blackwood collection, which includes all the previous chapters (Greymoor, Elsweyr, Summerset, and Morrowind), is priced at $59.99. You'll want the former as a returning player, and the latter if you're new to The Elder Scrolls Online.
Collector's Edition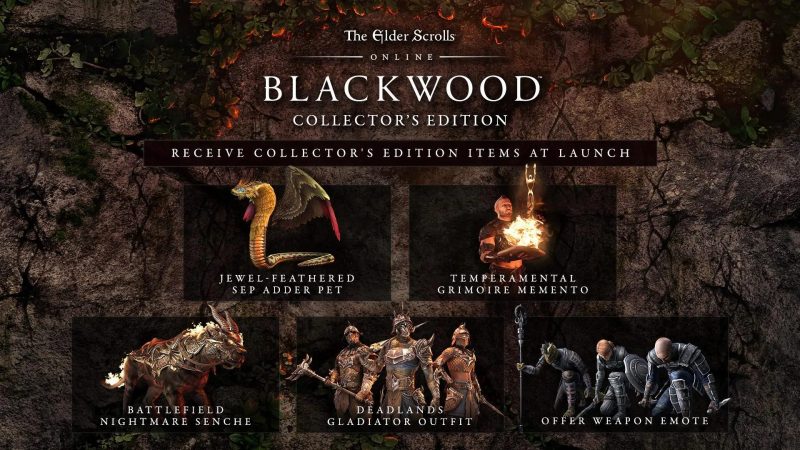 The Collector's Edition of Blackwood can also be purchased as an upgrade ($49.99) or collection ($79.99). The first, meant for existing players, only opens up the Blackwood expansion. The second includes the base game and all the previous chapters. Of course, whichever option you choose, you'll also receive the following in-game content:
Battlefield Nightmare Senche mount
Jewel-Feathered Sep Adder pet
Temporal Grimoire memento
Deadlands Gladiator Outfit Style
Offer Weapon emote
The Elder Scrolls Online: Blackwood is coming to PC, Mac, and Stadia on June 1, 2021, and to PlayStation 4 and Xbox One on June 8.
Check out our other upcoming mmorpg games and upcoming pc games.