This game was released on June 04, 2019 and is no longer available to pre-order. Any incentives that were offered are listed below.
Elsweyr is the third expansion pack for The Elder Scrolls Online, and a part of the Season of the Dragon storyline spanning the entire 2019. Two most notable additions include the new Necromancer class with its three unique Skill Lines, and the titular Elsweyr – the homeland of the Khajiit.
The wild and untamed region suffers under the rule of the Imperial usurper queen Euraxia, and burns from the fires of rampaging dragons. It is up to the player to discover what dark purpose lies behind this.
The expansion includes dragon hunt events, the Sunspire Trial, a "huge amount" of new delves, public dungeons, world bosses, and side-quests. It also adds new collectibles, crafting motifs, and gear for the players to kit out their characters in.
Pre-order Bonuses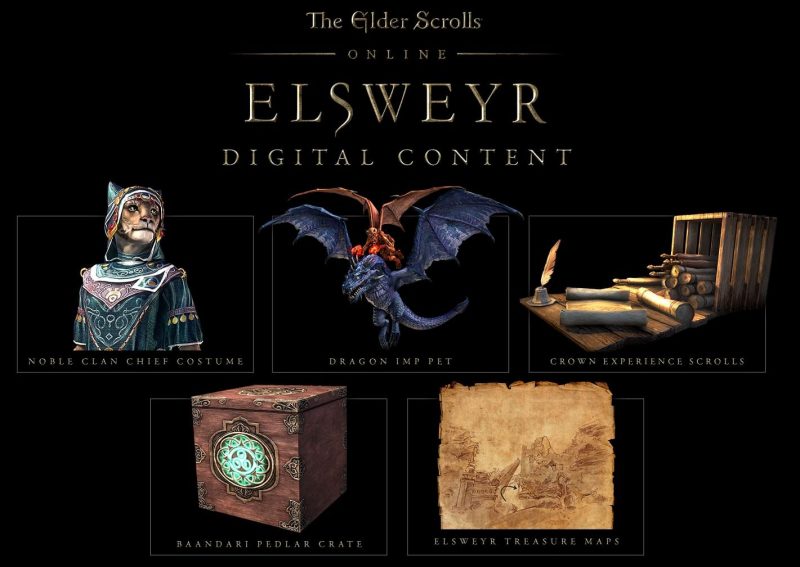 Firstly, pre-purchasing any edition of Elsweyr grants the Rahd-m'Athra mount, an otherworldly in-game steed. Digital pre-purchases receive immediate access, whereas retail customers get their mount at launch. Regardless if you go digital or physical, you also get following items at launch:
Noble Clan Chief costume: the clans of Anequina in northern Elsweyr are largely nomadic, but they nonetheless have hereditary aristocracies who express their wealth and power through the splendor of their clothing.
Blue Dragon Imp pet: a clever Illusion Imp that's found a way to get free handouts and a warm place to sleep.
A Baandari Pedlar Crown Crate: a mystery collection of Baandari items.
Elsweyr Treasure Maps bundle: a collection of three Treasure Maps that will lead you to hidden riches.
Crown Experience Scrolls (x2):  100% XP scrolls, created by a Priestess of Meridia, to help you get started on your adventures.
Secondly, pre-purchasing the full Standard Edition of Elsweyr ($59.99) digitally also grants instant access to the Summerset and Morrowind expansions, which is obviously appealing if you're looking to get into the game. Once again, if you go digital you get instant access, whereas if you purchase a boxed copy you have to wait until Elsweyr launches. The expansions will remain as a part of the bundle post-launch too; the bonus is the instant access.
And to existing owners of The Elder Scrolls Online, a Standard Edition Upgrade ($39.99) is offered containing just the upcoming expansion and the associated in-game items.
Digital Collector's Edition ($79.99)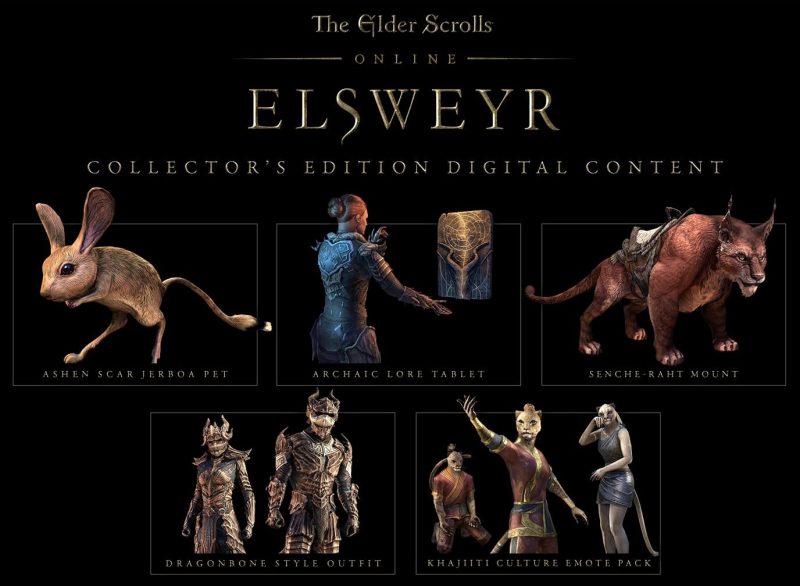 The full Collector's Edition also comes with the Rahd-m'Athra mount, the aforementioned in-game items, and the instant access to Summerset and Morrowind. Furthermore, it includes all the in-game items from the Summerset Collector's Edition and the Morrowind Collector's Edition (again, with instant access) as well as the following exclusive items at launch:
Senche-Raht mount: largest of all the furstocks, or "breeds" of Khajiit, the Senche-raht is fully intelligent, and in combat often serves simultaneously as warrior and mount.
Ashen Scar Jerboa pet: there are many in the Ashen Scar, and if you catch one when it's small, it makes for a pleasant, fuzzy friend.
Archaic Lore Tablets exclusive memento: invoke these Tablets of Archaic Lore and they glow with the wisdom of ancient knowledge!
Khajiiti Cultural Pack: Cat-Folk Pack that includes the Cat Contemplation, Feline Hygiene, and Pedlar Beckoning emotes.
 Dragonbone Style outfit style conversions: allows you to convert your gear to the Dragonbone style.
As before, a Collector's Edition Upgrade is available for $49.99 to those who already own the base game, containing only the Elsweyr CE items but nothing from Morrowind's nor Summerset's.
The Elder Scrolls Online: Elsweyr is coming to PlayStation 4, Xbox One, and PC on June 4, 2019.
Check out our other upcoming mmorpg games and upcoming pc games.