This game was released on June 09, 2020 and is no longer available to pre-order. Any incentives that were offered are listed below.
Greymoor is the fourth expansion pack, or chapter, for Zenimax's The Elder Scrolls Online. It opens up Western Skyrim, a frozen, mountainous region plagued by harrowstorms and besieged by a powerful Vampire Lord. The expansion brings a quest line that ties into the Dark Heart of Skyrim adventure, a new Antiquities system that involves collecting lost relics, a new 12-player Trial, and more delves, public dungeons, and stand-alone quests.
New players can purchase Greymoor as a standalone game and receive access to the previous Morrowind, Summerset, and Elsweyr chapters. Existing players can of course purchase the cheaper digital upgrade pack. Pre-order bonuses are offered in both cases; more on those after the jump.
Pre-order Bonuses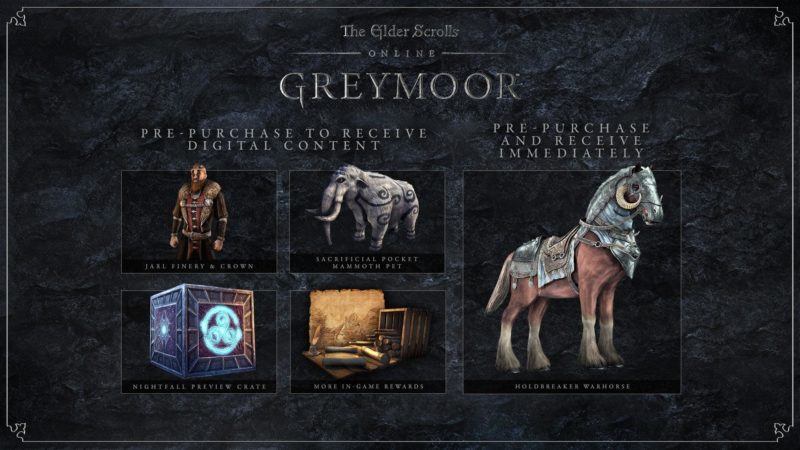 Pre-order ESO: Greymoor for any platform to receive the following in-game items at launch:
Jarl Finery Costume: this rugged but stylish raiment is typically reserved for northern nobility—just more proof of your heroic stature!
Sacrificial Pocket Mammoth Pet: though the arcane markings indicate its status as a sacrificial offering, these creatures often end up trundling along after soft-hearted souls like yourself.
Nightfall Preview Crown Crate: a select collection of Nightfall-themed items.
Western Skyrim Treasure Maps: a collection of three Treasure Maps.
Jarl Crown Adornment: crafted from horker leather and metal reworked from weapons, this circlet marks your lofty status among the Nords.
Two XP Scrolls: 50% XP scrolls, created by a Priestess of Meridia, to help you get started on your adventures.
On top of that, those who pre-purchase Greymoor digitally receive instant access to an exclusive mount:
Holdbreaker Warhorse Mount: even the stoutest castle gates splinter under the thundering hooves of the exclusive Holdbreaker Warhorse! Astride this hardy steed, victory on the battlefield is assured.
Pre-purchasing the full (as opposed to an upgrade pack) version of Greymoor also grants instant access to the previous chapters of The Elder Scrolls Online.
Digital Collector's Edition ($79.99 full / $49.99 upgrade)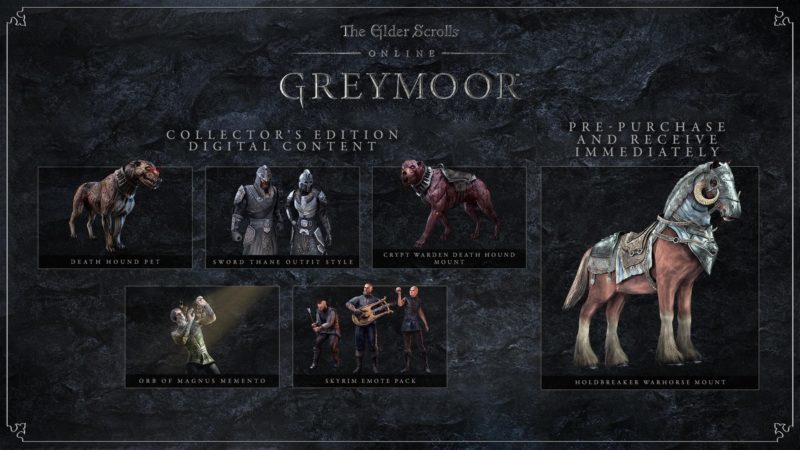 The Digital Collector's Edition is available as a full bundle with all previous chapters included or as an upgrade with Greymoor chapter only. Both include the following exclusive in-game content:
Death Hound Pet: "I grew tired of the crush of humanity, so I got a Death Hound. Now I can't enter most taverns, but I also don't have people crowding my space." —Theldyn Faden
Orb of Magnus Memento: hide from the oppressive light of Magnus with this memento.
Crypt Warden Death Hound Mount: once these death hounds served crypt wardens exclusively, stalking the gloomy barrows of Skyrim in search of prey.
Swordthane Outfit Style Conversions: claim a highly respected role among the Nords, the swordthane, and convert your gear to this distinctive style.
Skyrim Emote Pack:  includes the emotes Arrow to the Knee, Missing Sweetroll, and Ragnar the Red.
Naturally, the pre-order or pre-purchase bonuses are also included with this edition where applicable.
Physical Collector's Edition ($129.99 upgrade)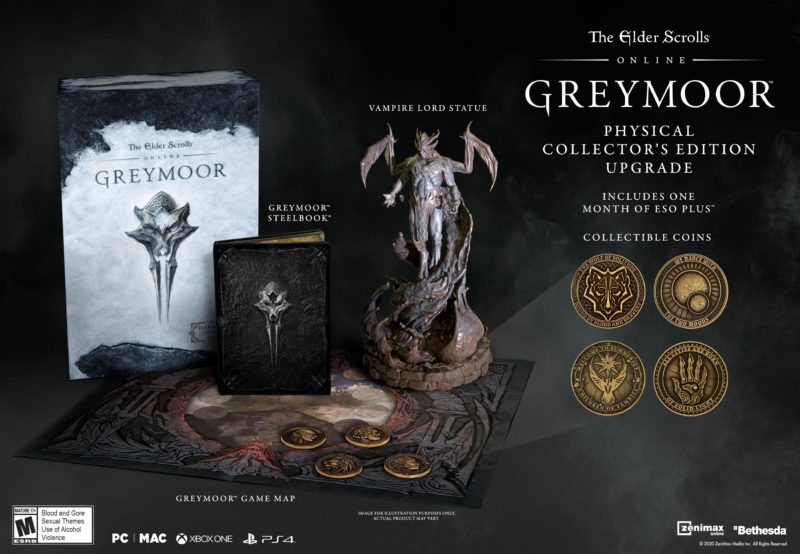 Greymoor also has a physical Collector's Edition, which only comes with the new chapter and does not include the base game. In addition to the aforementioned digital items, it also comes with the following collectibles:
Vampire Lord Statue: a menacing sculpture of a great Vampire Lord.
Four Collector's Coins: based on each of the realms found in ESO's chapters, including Vvardenfell, Summerset, Northern Elsweyr, and Western Skyrim.
Steelbook: hardy as a Nord's ass (donkey!).
Map of Western Skyrim: plan your adventures into the home of the Nords.
One Month of ESO Plus: enjoy access to select ESO Plus benefits, including the Craft Bag, DLC access, and more.
The Elder Scrolls Online: Greymoor is scheduled to launch on May 26, 2020 for PC and Mac, and June 2, 2020 for Xbox One and PlayStation 4. The game will also be available on Google Stadia.
Check out our other upcoming mmorpg games and upcoming pc games.