This game was released on June 05, 2018 and is no longer available to pre-order. Any incentives that were offered are listed below.
Summerset is the second full expansion to The Elder Scrolls Online following last year's Morrowind. It opens up the Summerset Isle, the land of the High Elves, as a new area to explore. New content includes an epic main story quest line, a skill line based on the magic of the Psijic Order, jewelry crafting, and group PvE challenges including Cloudrest, a 12-player Trial.
As was the case with Morrowind, the upcoming expansion is available both as a digital upgrade for existing players, and as a full-priced game (including the base ESO) for newcomers. There are also pre-purchase bonuses to be had, which are detailed below as usual.
Pre-order Bonuses
First off, all The Elder Scrolls Online: Summerset pre-orders will receive the Queen's Bounty Pack and the Nightmare Senche Mount depicted above. The Pack includes the following in-game items, as per official website:
Court of Bedlam Costume: an exclusive costume with a sinister style, available to all classes.
Pocket Salamander Pet: express your inner newt with this non-combat in-game pet.
Treasure Maps: three ancient maps will lead you to caches of loot: gear, gold, and other forgotten riches.
Psijic Vault Crown Crate: open for a chance at Psijic-themed mounts, pets, costumes, and more.
Experience Scrolls: receive a 50% experience boost for two hours with these two Experience Scrolls.
Secondly, new players who pre-purchase digitally will receive instant access to the base game, allowing them to start playing The Elder Scrolls Online immediately. Furthermore, they will also receive access to the Morrowind – but only for a limited time, after which the previous expansion will have to be purchased separately. Again, unlike the aforementioned Queen's Bounty Pack, this is only available to digital pre-orders.
The full Standard Edition costs $39.99, and the digital upgrade for existing owners of ESO is priced at $29.99.
Collector's Edition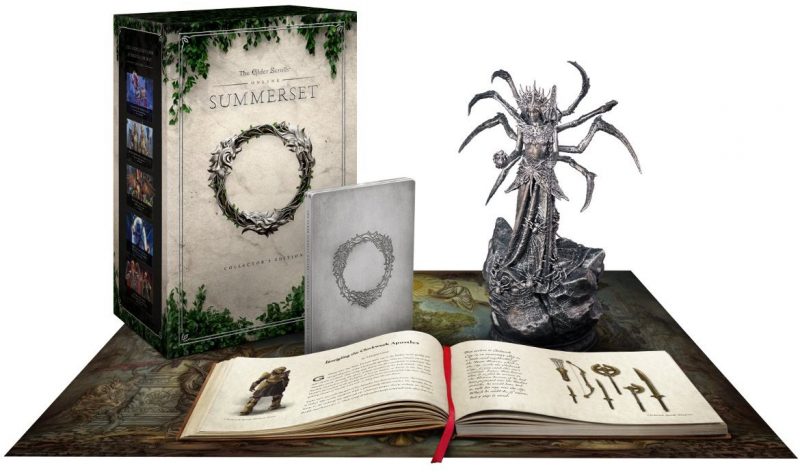 There is also a Summerset Collector's Edition to be had, which is available in physical ($89.99), digital ($59.99), and digital upgrade ($39.99) flavors. The contents are as follows:
Physical items:

Mephala Statue: a monument to the Daedric Prince Mephala, this 12″ replica was unearthed from a cultist shrine.
Razum-dar's Journal: a spy's report to Queen Ayrenn chronicling the knowledge collected during his investigation of Summerset.
Map of Summerset: the home of the High Elves is open to foreign visitors for the first time in history. Let this map be your guide through previously uncharted lands.
Exclusive Steelbook Case: a limited-edition metallic case, perfect for any collector's shelf.

Digital items:

Bloodshadow Wraith Steed Mount: an extremely rare mystical creature, the Bloodshadow Wraith is a sight to behold.
Divine Prosecution Outfit Style: change your gear and weapon appearance with a unique outfit style.
Fledging Gryphon Pet: a delightful companion whose juvenile antics are hilarious!
Psijic Scrying Talisman: a memento that allows you to simulate the farseeing spells of the Psijic Order mages.
House of Reveries Emote Pack: display your true emotions with three new emotes: Happy Face, Sad Face, and Ta-Dah.
The Elder Scrolls Online Collection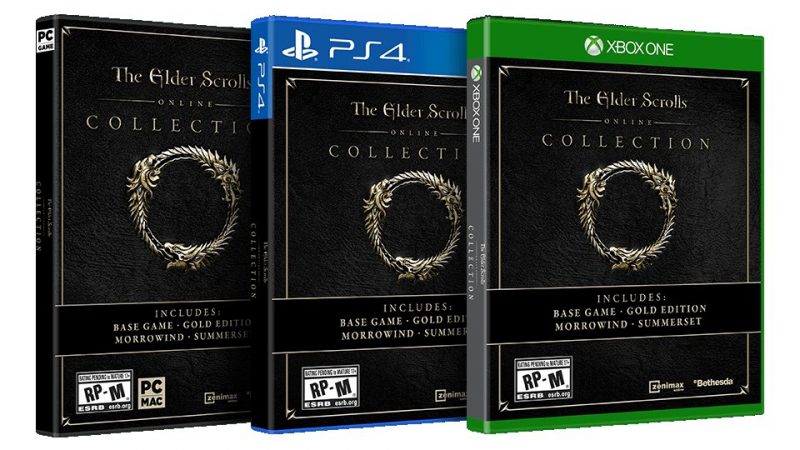 New players might also be interested in The Elder Scrolls Online Collection which bundles together the base game, Morrowind, Summerset, and four DLC packs: Imperial City, Orsinium, Thieves Guild, and Dark Brotherhood. This one costs $79.99, and pre-purchasing it also awards the Queen's Bounty Pack and the Nightmare Senche Mount.
Summerset will be out May 21 on PC & Mac, and June 5 on PlayStation 4 and Xbox One.
Check out our other upcoming mmorpg games and upcoming pc games.