This game was released on September 24, 2019 and is no longer available to pre-order. Any incentives that were offered are listed below.
The Surge 2 is a sci-fi action RPG developed by Deck 13 and published by Focus Home Interactive and Maximum Games. The game begins with the player waking up inside an abandoned detention facility in Jericho city following a plane crash. The military is enforcing martial law, the robots are rampaging, and an expanding nanostorm looms in the sky.
Much like the original title, the sequel features a melee combat system which encourages players to rip armored limbs off their enemies and use them to upgrade their own exo-rig. Instead of playing as Warren (the protagonist of The Surge), however, players create their own character. The sequel's world is more expansive and open, made up of interconnected urban areas each with their set of quests and NPCs. There also are new weapon types, armor, implants, consumables, and companion drones wielding ranged weaponry.
Pre-order Bonuses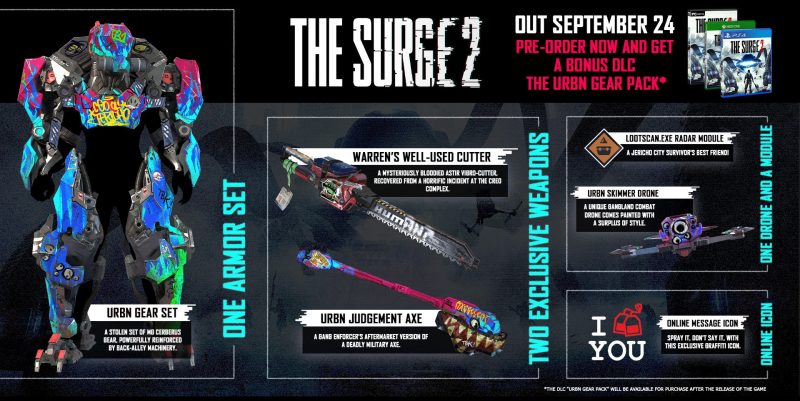 Pre-order The Surge 2 for any platform to receive the URBN Gear Pack containing the following:
Warren's iconic weapon from The Surge: the well-used Cutter
Full-body URBN armor set
URBN Judgement Axe
URBN Skimmer Drone
Lootscan.exe Radar Module
Unique online message icon.
The pack will be made available for purchase some time after the release of the game.
Limited Edition ($59.99)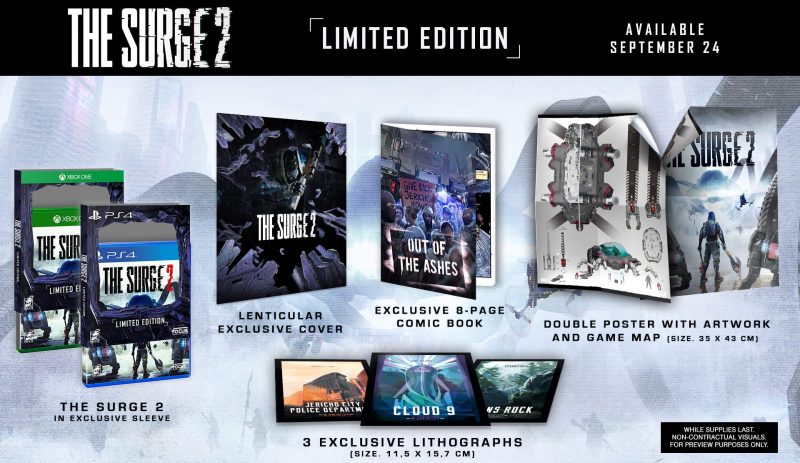 In addition to a copy of The Surge 2, the Limited Edition comes with the following:
Lenticular exclusive cover
Exclusive 8-page comic book
Double poster with artwork & game map (35 x 43 cm)
3 exclusive lithographs (11.5 x 15.7 cm)
This edition is available from select retailers worldwide, which in the United States means GameStop.
The Surge 2 launches worldwide on September 24 for PlayStation 4, Xbox One, and PC.
Check out our other upcoming action games and upcoming pc games.