This game was released on September 29, 2020 and is no longer available to pre-order. Any incentives that were offered are listed below.
The Walking Dead: Onslaught is a survival shooter developed by Survios for PSVR and PC VR systems (Oculus Rift, HTC Vive, and Valve Index). Based on AMC's hit TV show, the game features an original story that slots in between the show's seasons eight and nine.
Onslaught is purely a single-player title and involves scavenging for supplies, rebuilding the settlement of Alexandria, upgrading character stats and weapons, and, of course, fending off walkers. The player will have to deal with as many as 30 walkers on the screen and eliminate them using a variety of ranged and melee weapons, with the damage viscerally depicted by the developer's touted "progressive dismemberment" system.
Pre-order Bonuses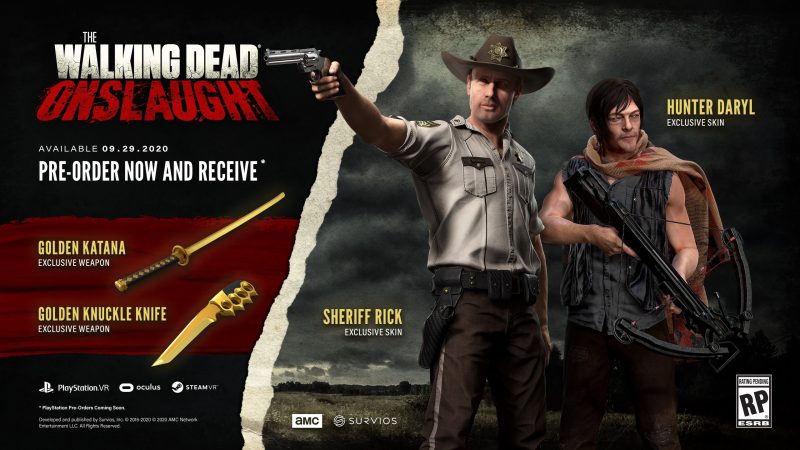 Pre-order The Walking Dead: Onslaught to receive exclusive cosmetic skins, two for characters and two for weapons:
Sheriff Rick Exclusive Skin
Hunter Daryl Exclusive Skin
Golden Katana Exclusive Weapon
Golden Knuckle Knife Exclusive Weapon
As an additional perk, pre-ordering grants a 10% discount, reducing the price from $29.99 to $26.99 for the Standard Edition and from $39.99 to $35.99 for the Deluxe. On Steam and Oculus, this discount is offered to everyone, whereas on PlayStation Store it is only available to PS Plus members.
Deluxe Edition ($39.99)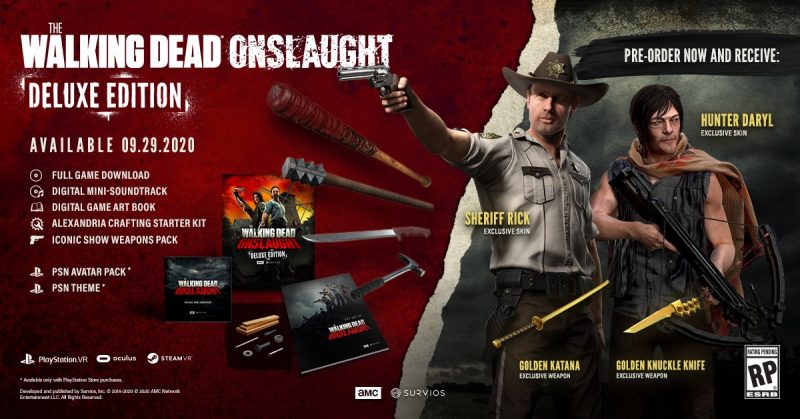 TWD: Onslaught's digital Deluxe Edition includes all the aforementioned bonuses and more:
"Mandy" Iconic Show Weapon
"Lucille" Iconic Show Weapon
Mace Iconic Show Weapon
Hammer Iconic Show Weapon
Alexandria Crafting Starter Kit
Digital Mini-OST
Digital Art Book
PlayStation Store Exclusive:

PSN Avatar Pack
PSN Theme
The Walking Dead Onslaught launches September 29, 2020.
Check out our other upcoming action games and upcoming pc games.