This game was released on March 08, 2016 and is no longer available to pre-order. Any incentives that were offered are listed below.
Tom Clancy's The Division is a third-person MMO shooter set in a near-future version of New York, which was devastated by a weaponized virus. As the deadly pandemic sweeps through the nation, essential services fail one by one, and society itself collapses. It is under these circumstances that the last line of defense, the titular Division, is activated. Players take the role of one of its agents and are tasked with investigating the source of the virus and restoring order.
The Division runs on the next-gen Snowdrop engine developed by Ubisoft Massive. The game features a persistent open world and numerous RPG elements such as character levels, gear, and loot. There are no classes, so players are free to specialize in whatever skills they prefer. The upcoming title also has PvP combat, but only in special areas called Dark Zones.
Pre-order bonuses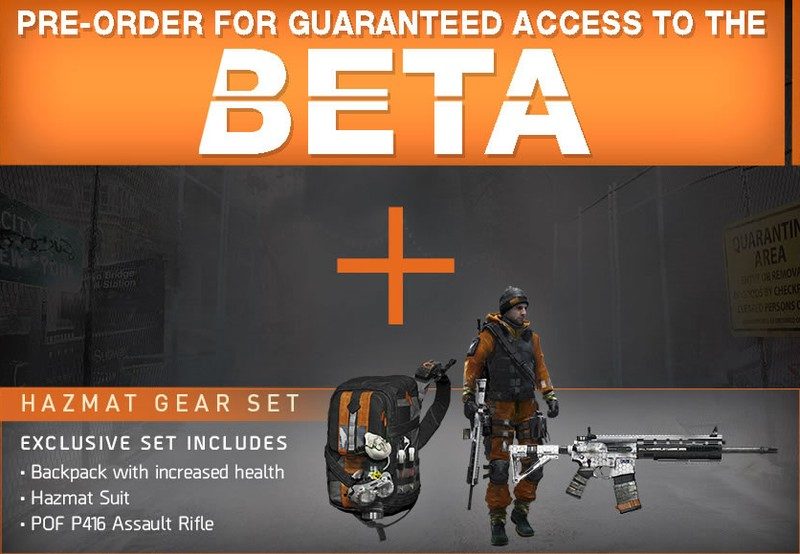 Pre-order The Division for guaranteed access to the beta (December 2015 for Xbox One and early 2016 for other platforms). You will also get a Hazmat Gear set: an appropriately themed array of clothing (Hazmat Suit), weapon (P416 Assault Rifle), and backpack (Go Bag) which provide some bonuses to the character when equipped.
And here are any additional pre-order promos from the retailers:
Best Buy: $10 in reward certificates and 20% off the game for Unlocked members
Microsoft Store: a digital $10 Xbox gift card
Amazon: 20% off for Prime members
The official Uplay Shop seems to be offering an exclusive Steelbook, but only in regions other than the US.
Gold Edition
A familiar type of bundle which combines the game and a Season Pass, this $100 edition also throws in an exclusive National Guard gear set.
Collector's Edition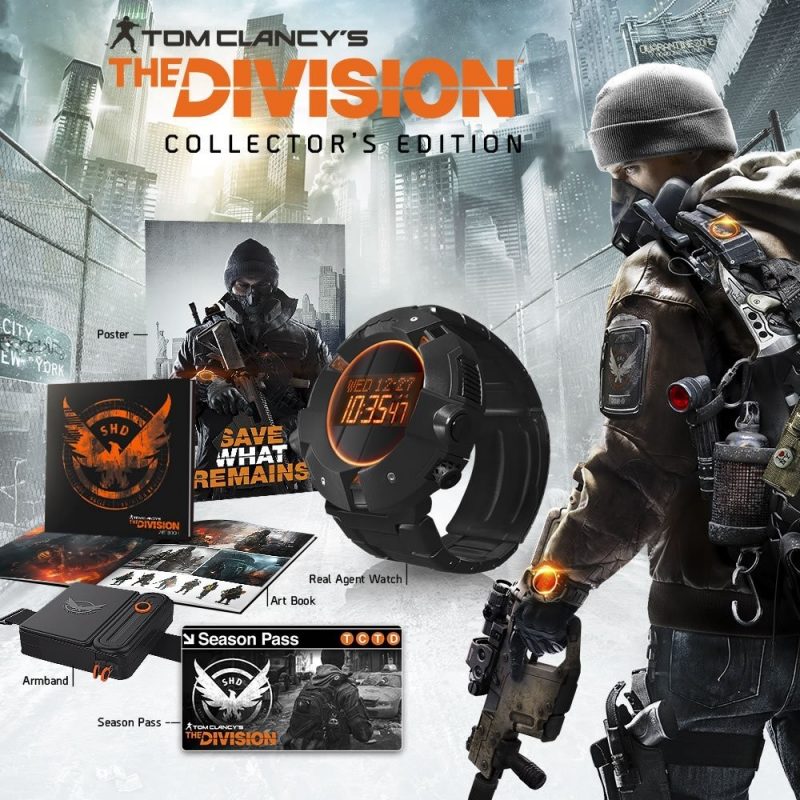 The more expensive ($160) Collector's Edition includes Season Pass, real agent watch, poster, agent armband, and art book.
E3 2015 trailer
The release date of Tom Clancy's The Division is set for March 8, 2016.
Check out our other upcoming mmorpg games and upcoming pc games.