This game was released on March 05, 2013 and is no longer available to pre-order. Any incentives that were offered are listed below.
The upcoming 2013 Tomb Raider game is a reboot of the franchise, unrelated plot-wise to its predecessors. The story begins with the 21-year-old heroine Lara Croft getting stranded on a remote tropical island after a shipwreck. Waking up in a coastal cave, the young woman immediately has to fight for her life. Combat is an important part of the game, but so are the series trademark puzzles and exploring.
Pre-order bonuses
Square Enix came up with some interesting incentives for those who pre-order the newest Tomb Raider. In North America, you can choose between the following three retailers:
Amazon: Final Hours Edition which includes a 32-page art book, exclusive camouflage Hunter Skin, and "The Final Hours of Tomb Raider" app for Kindle Fire which gives fans a behind-the-scenes look at the development of the game.
Best Buy: Tomb Raider: The Beginnings, a 48-page graphic novel that sets the stage for the game, plus Aviatrix Skin: a 1930s adventurer outfit for Lara Croft.
GameStop: an exclusive Lost Adventurer Challenge Tomb with all-new puzzles to overcome, and the Shanty Town map for multiplayer.
Collector's edition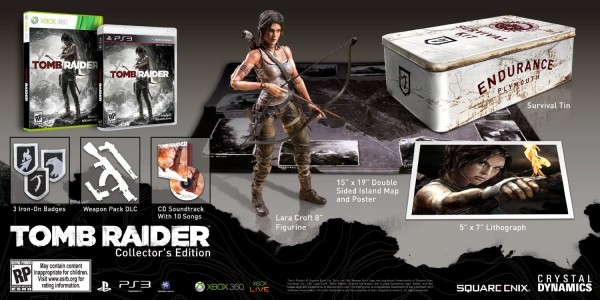 Tomb Raider Collector's Edition has a MSRP of $99.99 and includes the following goodies:
Endurance Survival Kit Packaging
8″ Lara Croft Figurine from Play Arts KAI
15″ x 19″ Double-Sided Island Map and Poster
5″ x 7″ Lithographic Print
Three Iron-On Badges
Original Soundtrack CD
Weapons Pack DLC
Crossroads trailer
The official "Crossroads" trailer from E3 2012. The game is said to be grittier than the previous titles in the franchise, and is expected to warrant an M rating.
https://www.youtube.com/watch?v=EoDRGHWZh-I
The game will release for Xbox 360, Playstation 3, and PC platforms on March 5th, 2013.
Check out our other upcoming action games and upcoming pc games.