This game was released on February 28, 2017 and is no longer available to pre-order. Any incentives that were offered are listed below.
Torment: Tides of Numenera is an old-school RPG developed by inXile Entertainment and published by Techland Publishing. Having raised over $5 million through Kickstarter, it holds the honor of being one of the highest-funded games on the platform. Along with titles like Pillars of Eternity and Wasteland 2, it is considered a part of the classic RPG renaissance seen in the recent years.
Like its title suggests, Tides of Numenera is a thematic successor to the 1999 cult-classic Planescape: Torment. The new game adheres to the "four pillars" which made Torment so great: a deep, thematically satisfying story, an original setting, a rich, personal narrative, and meaningful consequences of the player's choices. Taking place one billion years in the Earth's future, in the science-fantasy setting of Numenera, the game aims to provide all that and more.
Pre-order bonuses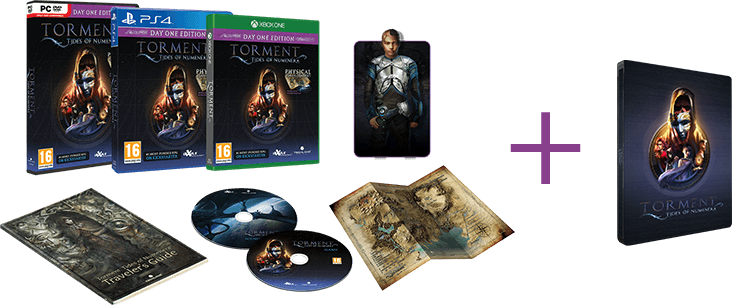 Pre-order Torment: Tides of Numenera for either console ($49.99) to receive the Day One Edition with the following extras:
Steelbook (exclusive to GameStop in the US)
Soundtrack CD
Printed World Map
Traveler's Guide (digital)
Mindforged Synthsteel Plating (digital)
Those looking for a PC copy instead can still pledge through the developers' website for the Digital Collector's Edition ($60) or the Torment and Wasteland 2 bundle ($65).
Digital Deluxe Edition (PC)
Available only through Boxoff Store, this $49.99 edition includes the Steam game plus an exclusive printable pack:
Traveler's Guide
T-shirt Design
Forum Signatures & Avatars
World Map
Collector's Edition
Collector's Big Box
8″ Statue of the First Castoff
Tidal Talisman
Hardcover Artbook
Printed Traveler's Guide
Printed World Map
Soundtrack CD
Mindforged Synthsteel Plating (digital)
Torment: Tides of Numenera will be released on February 28, 2017 through current-gen consoles and Steam.
Check out our other upcoming rpg games and upcoming pc games.