This game was released on May 23, 2017 and is no longer available to pre-order. Any incentives that were offered are listed below.
Utawarerumono: Mask of Deception is a tactical RPG and visual novel game developed by Aquaplus and published by Atlus. The story takes place in a rich fantasy world and is said to offer 40 to 50 hours of gameplay. It begins with the protagonist awakening atop a snowy mountain, with no memories of who he is and how he got there. When he is attacked by a giant monster, a beautiful girl with animal ears and a tail comes to his rescue.
The plot of Utawarerumono: Mask of Deception unfolds through a linear visual novel boasting great art and background soundtrack. Integrated with that is a turn-based RPG battle system with various mechanics like elemental affinities and combo attacks that add depth to the combat encounters. The game features English text and Japanese audio.
Pre-order bonuses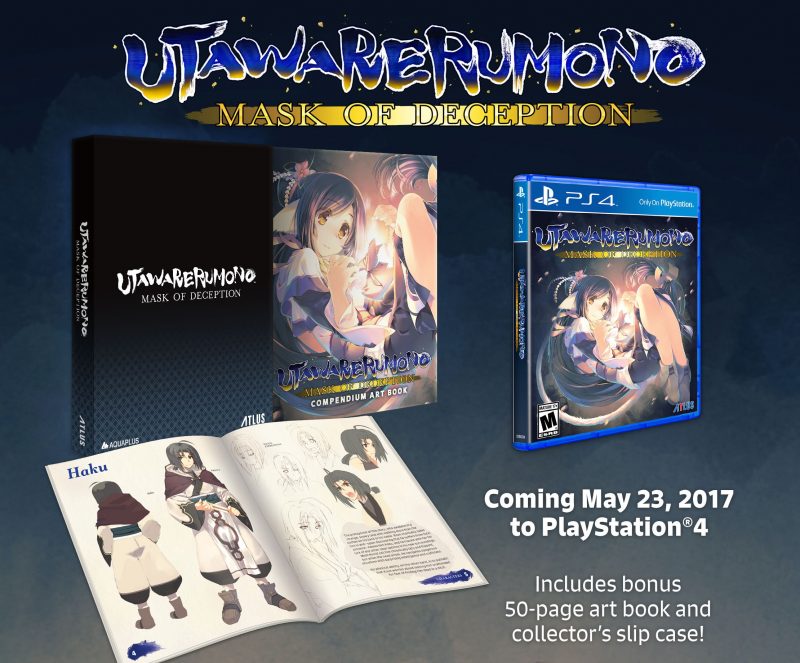 Pre-ordering Utawarerumono: Mask of Deception or buying the first-print version on release gets you the Launch Edition depicted above. The following two bonuses are included:
Compendium Art Book: 50-page softcover art book contains art & information about some of the unlikely heroes, fantastical creatures, exotic locales, and more. It also features concept art and developer notes that show a glimpse of the creative process behind building a mystical world. The book also includes information about the mighty Yamato Empire and its surrounding nations that'll serve as a guide to those unfamiliar with the series.
Collector's Slipcase: the physical game and art book will be enveloped by a protective slipcase.
Kuon trailer
Utawarerumono: Mask of Deception will be released on May 23 for PlayStation 4 and PS Vita consoles. Its direct sequel, Mask of Truth, is slated for a September 5 release.
Check out our other upcoming rpg games and upcoming playstation 4 games.