This game was released on June 05, 2018 and is no longer available to pre-order. Any incentives that were offered are listed below.
Vampyr is an action RPG developed by French studio Dontnod Entertainment and published by Focus Home Interactive. Set in a fictionalized 1918 London, it follows Dr. Jonathan Reid, a newly-turned vampire, who must balance his responsibilities as a doctor with his bloodthirsty urge to feed. Reid strives to find a cure for the lethal outbreak of Spanish flu that is ravaging the city, and battles other vampires using a variety of melee and ranged weapons, as well as supernatural abilities. The player's decisions throughout the game will trigger one of four different endings, all of which require different conditions to unlock, such as not killing a single person.
Pre-order Bonuses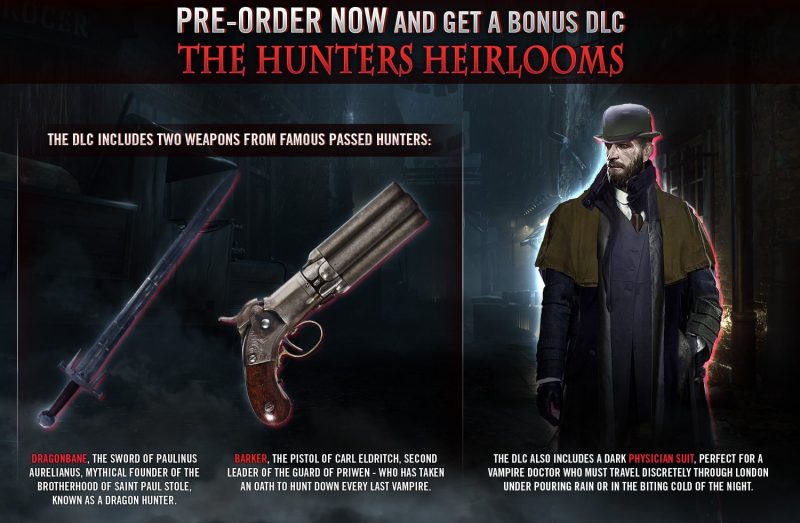 Pre-order Vampyr to receive The Hunters Heirlooms DLC, which includes two weapons from famous past hunters, as well as an additional outfit:
Dragonbane: the sword of Paulinus Aurelianus, mythical founder of the Brotherhood of Saint Paul Stole, known as a dragon hunter.
Barker: the pistol of Carl Eldritch, second leader of the Guard of Priwen, who have taken an oath to hunt down every last vampire.
Dark Physician Suit: perfect for a vampire doctor who has to travel discretely through London under pouring rain or in the biting cold of the night.
According to the publisher, the DLC pack will be available for purchase some time after launch.
At the time of writing, pre-purchasing through Steam also grants a 10% discount.
Select retailers in certain territories (France, the Nordics, Spain, Portugal, Benelux, Poland, and Australia) are giving away a limited edition vinyl featuring a selection of the game's soundtrack, composed by multi-award winner and BAFTA nominee Olivier Deriviere. Alas, it does not appear to be available anywhere in the States.
E3 2017 Trailer
Vampyr is scheduled to launch on June 5, 2018 on Xbox One, PlayStation 4, and Steam.
Check out our other upcoming action games and upcoming pc games.