This game was released on October 13, 2022 and is no longer available to pre-order. Any incentives that were offered are listed below.
Get ready to take on the most authentic rallying experience ever crafted in WRC generations, a rally racing video game developed by Kylotonn and published by Nacon. With WRC migrating to hybrid engines for the 2022 season so will the games from this year going forward.
The introduction of hybrid cars into the mix brings about a whole new set of layers to the gameplay that you must adapt to on the go.
Experience the WRC revolution this autumn on PlayStation 5, PlayStation 4, Xbox Series X and Series S, Xbox One, and Microsoft Windows.
Game mechanics have been tweaked to accommodate the transition with you now having to manage your hybrid battery during races by adjusting your engine mapping to best suit the scenario.
Covering 750km and spanning 22 countries, WRC generations doesn't hold back. Play as any of the 49 teams from the 2022 season and get to hop into the cockpit of any of 37 legendary rally cars.
Pre-order Bonuses
If you make a purchase through these links, we may get a share of the sale.
WRC Generations Standard Edition ($39.99)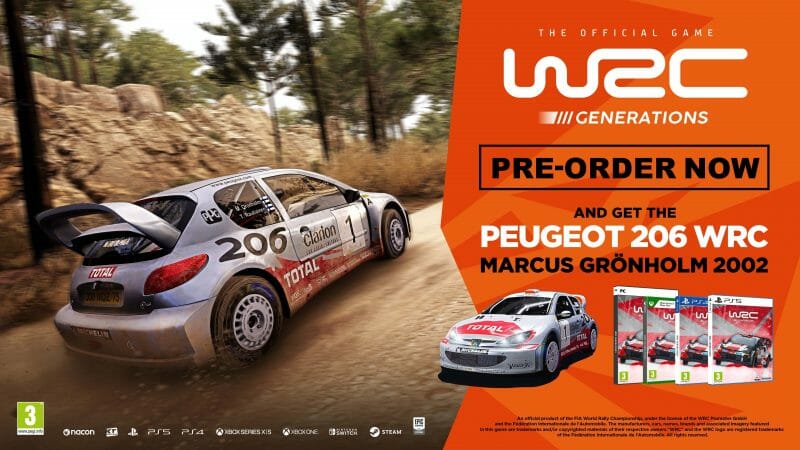 The standard pre-order of the game comes with a pre-order bonus that includes Marcus Gronholm's Peugeot 206 WRC car.
WRC Generations Fully Loaded Edition ($49.99)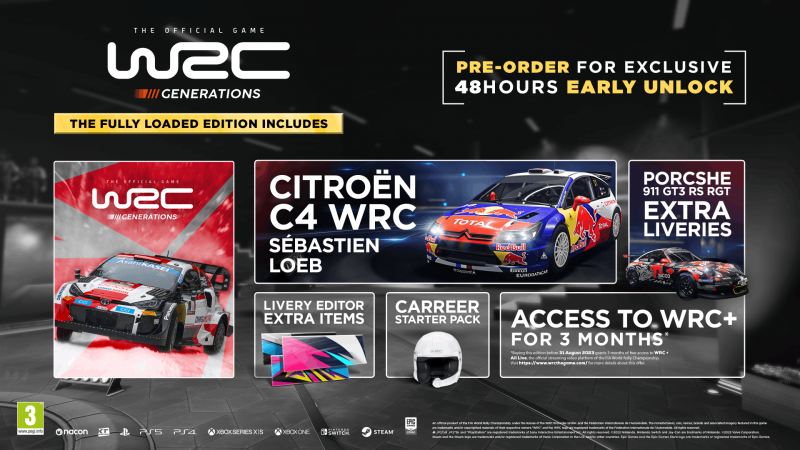 The Fully Loaded Edition of the game is the content-filled version coming with the base game, the preorder bonus, as well as:
48h early unlock
Peugeot 206 WRC 2002 DLC
Citroën C4 WRC 2010 DLC
Career Starter Pack
Porsche 911 GT3 RS RGT Extra liveries
36 stickers for the Livery Editor
3 Month WRC+
PlayStation
Xbox
WRC Generations will be released on October 13th, 2022, and will be playable on PlayStation 5, PlayStation 4, Xbox Series X|S, Xbox One, and Windows PC.
Check out our other upcoming racing games and upcoming playstation 4 games.