This game was released on November 25, 2011 and is no longer available to pre-order. Any incentives that were offered are listed below.
WWE '12 is a pro wrestling simulator from THQ and Yuke's. Compared to its predecessors, the game features a more realistic animation system, better physics, and numerous gameplay changes. For example, grapple animations before finishers have been removed, while new Dynamic Comebacks – moves that you can use after taking lots of damage – have been added.
WWE '12 also includes a powerful Creation Suite which allows the players to design their own Superstars, Entrances, Stories, and Finishers. New to the WWE series is Create-an-Arena feature which lets you make your own arenas and share them online. Furthermore, an improved WWE Universe mode makes a return as well.
WWE '12 pre-order bonuses
First off, all preorder customers in the US and Europe will get a downloadable The Rock character, as previewed in the trailer below:
Everyone else will be able to buy the DLC 3 months after the game's release. There also are some additional bonuses to be had at the following retailers:
United States
GameStop: exclusive Miz's Awesome Attire. Outfit The Miz in this stylin' suit or his "I'm Awesome" Entrance t-shirt and show the WWE Universe that you are the most must-see superstar in history.
BestBuy: Randy Orton T-shirt for your avatar to wear, and a $10 digital coupon.
Amazon and Walmart will both give you $10 credit at their stores.
United Kingdom
Amazon: the same aforementioned "Miz's Awesome Attire" DLC.
Feel free to share any promotions we've missed in the comments.
Collector's Edition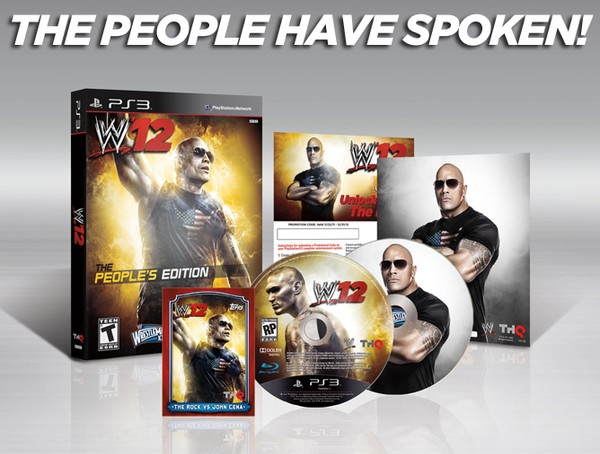 WWE '12 Collector's Edition (aka The People's Edition) features The Rock on its cover, as voted by fans on THQ's Facebook page. It is available on THQ Store for US and Canada customers at a $10 higher price. In the UK this premium edition of WWE' 12 can be bought at Play.com. The People's Edition includes the following items:
Unique foil sleeve cover packaging featuring "The Great One".
The game itself, including The Rock character.
Exclusive WWE Blu-Ray or DVD (depends on the platform) featuring The Rock's must-see WWE Raw appearances from February 14, 2011 and April 4, 2011, including his highly anticipated return to WWE and the moment his WrestleMania XXVIII match with John Cena was made official. Produced by the WWE for The People's Edition!
Exclusive foil Topps trading card featuring The Rock.
Electrifying photograph of The Rock.
The game will be released on November 22nd in the US and 3 days later in Europe.
Check out our other upcoming fighting games and upcoming playstation 3 games.