This game was released on August 24, 2021 and is no longer available to pre-order. Any incentives that were offered are listed below.
Aliens Fireteam Elite is a three-player co-op third-person shooter developed and published by Cold Iron Studios. Based in the same universe as James Cameron's Aliens (1986), you play as one of the members of an elite alien extermination crew. Aliens Fireteam Elite will be available on PlayStation 4, PlayStation 5, Xbox One, Xbox Series X|S and Microsoft Windows this summer.
A distress call from the planet LV-895 forces you and your crew to investigate. It doesn't take long to realize that the planet is infested with Xenomorphs and in serious need of a clean-up.
Shoot your way through waves of Xenomorphs as one of five character types: Gunner, Demolisher, Technician, Doc, and Recon. Use each of their strengths and weaknesses to your advantage to create well-rounded teams and fend off the alien hordes.
Experience tense close quarter firefights as enemy hordes grow larger and magazines run out. Enemy types, from Bursters- explode, leaving behind a pool of acid- to the seemingly impossible to kill Praetorians, with bulletproof armored plating are but a few of the Xenomorphs you will encounter during the story.
Pre-order Bonuses
If you make a purchase through these links, we may get a share of the sale.
Standard Edition($39.99)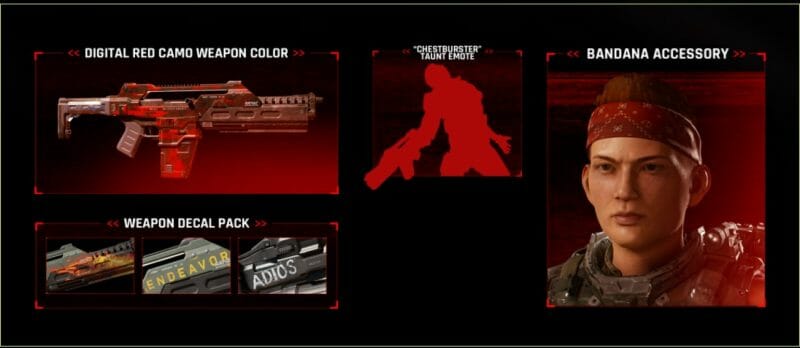 When you pre-order the Standard Edition of Aliens Fireteam Elite you get the Hardened Marine Pack plus the base game. Included in the Hardened Marine Pack is:
Digital Red Camo Weapon Color
ChestBurster Taunt Emote
Bandana Accessory
Weapon Decal Pack
Deluxe Edition($69.99)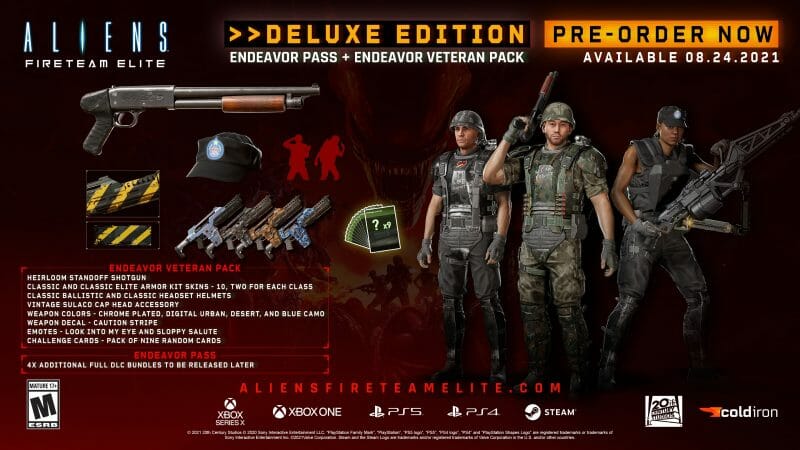 The Deluxe Edition of Aliens Fireteam Elite comes with the Hardened Marine Pack as well as a number of cool bonuses like the:
Endeavor Veteran Pack
Heirloom Standoff Shotgun
Classic and Classic Elite armor kit skins – 10, two for each class
Classic ballistic and classic headset helmets
Vintage Sulaco cap head accessory
Weapon colors – Chrome plated, digital urban, desert, and blue camo
Weapon decal – Caution stripe
Emotes – "Look Into My Eye" and "Sloppy Salute"
Challenge Cards – Pack of nine random cards
Endeavor Pass
4 DLC bundles to be released at a later date
PlayStation
Xbox
PC
Aliens Fireteam Elite will be released on August 24th 2021 and will be playable on PlayStation 4, PlayStation 5, Xbox One, Xbox Series X|S and Microsoft Windows.
Check out our other upcoming action games and upcoming pc games.