This game was released on May 21, 2021 and is no longer available to pre-order. Any incentives that were offered are listed below.
Far Cry 6 is an open-world first-person shooter from Ubisoft. The game is set in a fictional Caribbean island of Yara and follows Dani Rojas, a guerrilla fighter trying to liberate the nation from the oppression of the dictator Antón Castillo (played by Giancarlo Esposito). To burn the tyrannical regime to the ground, players will employ makeshift weapons and vehicles, build a network of allies, and hire new animal companions.
Far Cry 6 will be available on current and next-gen consoles, with both Xbox One and PlayStation 4 receiving free digital upgrades to their next-gen counterparts.
Pre-order Bonuses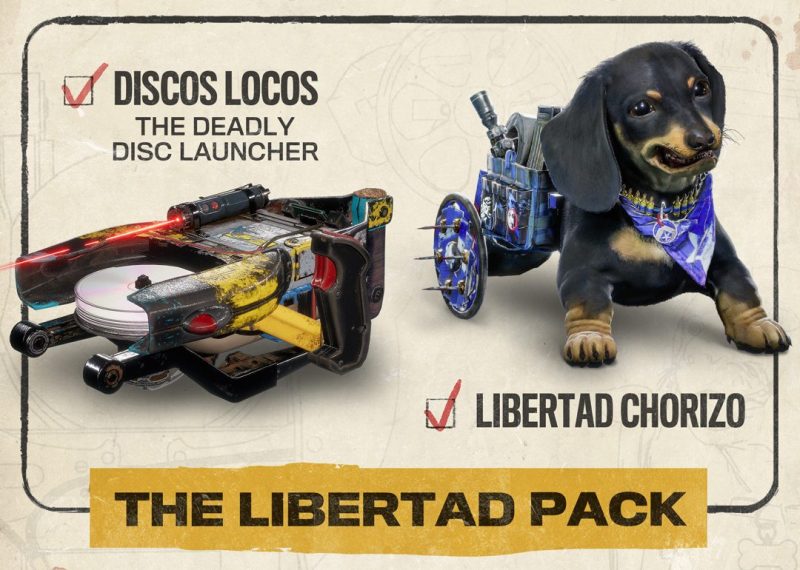 Pre-order any edition of Far Cry 6 to receive the Libertad Pack, which contains the following in-game bonuses:
Discos Locos: the deadly disc launcher
Libertad Chorizo: an outfit for the new Fangs for Hire, Chorizo
Additional bonuses are available through the following retailers:
Amazon: Standard Edition discounted to $49.94
Best Buy: $10 in reward certificates
Walmart: Standard Edition discounted to $49.94
If you make a purchase through these links, we may get a share of the sale. We'll keep an eye out for more and update as necessary.
Speaking of editions, there are as many as you would expect from an Ubisoft game. Let's skip the Standard Edition, which includes only the base game, and look at the special editions from cheapest to priciest.
Gold Edition ($99.99)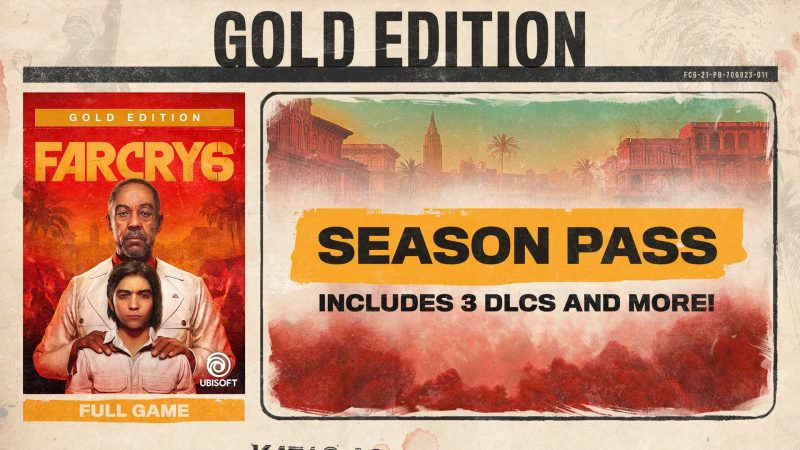 The digital Gold Edition bundles the base game with a Season Pass containing 3 DLCs and "more".
Gold Edition SteelBook ($109.99)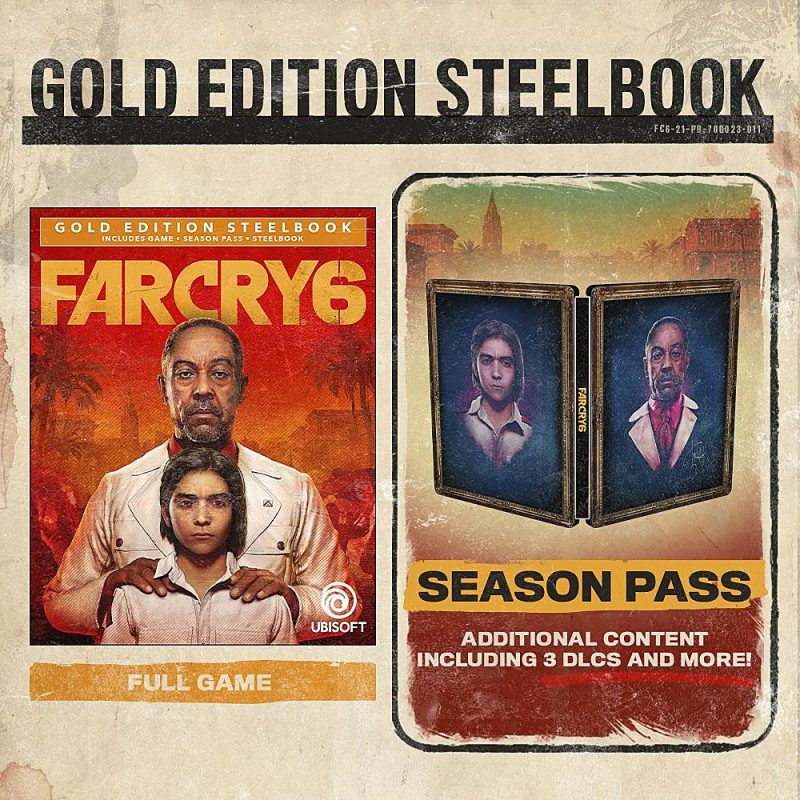 Like its name suggests, Gold Edition SteelBook is just the retail version of the Gold Edition that costs $10 higher and comes with a SteelBook case.
Ultimate Edition ($119.99)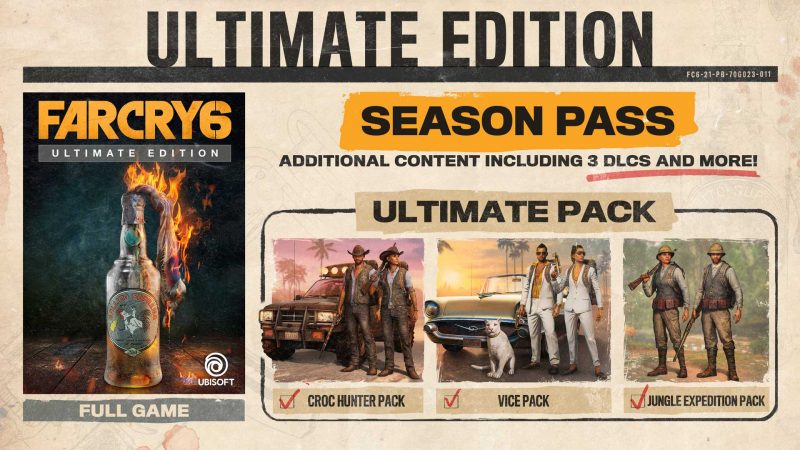 The digital Ultimate Edition adds three in-game content packs on top of everything listed so far:
Season Pass
Ultimate Pack:

Croc Hunter Pack
Vice Pack
Jungle Expedition Pack
Ultimate Edition SteelBook ($129.99)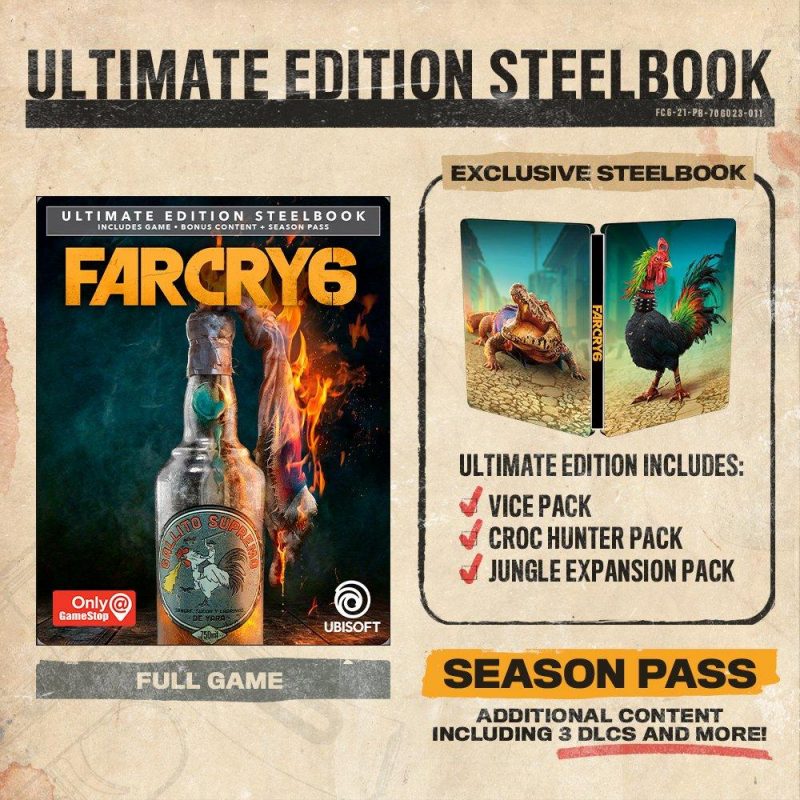 The boxed version of the Ultimate Edition includes everything its digital counterpart does, plus a snazzy SteelBook case. It is only available at GameStop.
Collector's Edition ($199.99)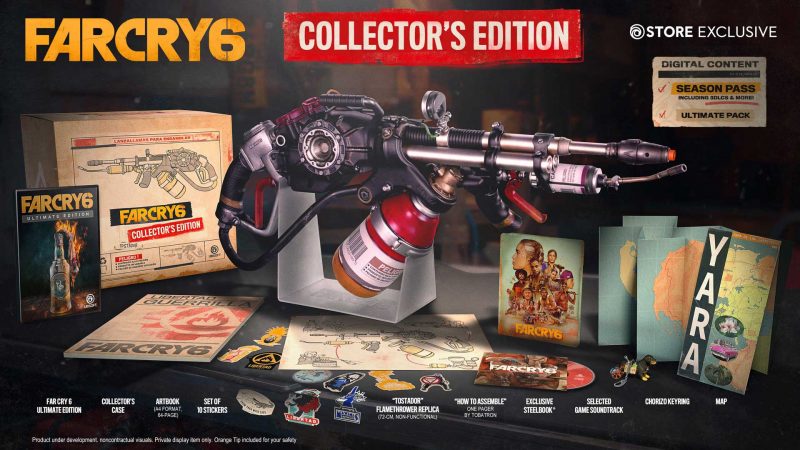 Lastly, the Ubisoft Store exclusive Collector's Edition comes with all aforementioned in-game content as well as a bunch of physical collectibles:
Season Pass
Ultimate Pack:

Croc Hunter Pack
Vice Pack
Jungle Expedition Pack

Exclusive SteelBook
Tostador Replica
Chorizo Keyring & Map
64-Page Artbook
Game Soundtrack
Far Cry 6 is coming to PlayStation 4, PlayStation 5, Xbox One, Xbox Series X, Windows PCs, and Google Stadia in 2021.
Check out our other upcoming shooter games and upcoming pc games.