This game was released on February 10, 2023 and is no longer available to pre-order. Any incentives that were offered are listed below.
Explore the vastly rich wizarding world in an undocumented era and carve out your own legacy in Hogwarts Legacy. Developed by Avalanche Software and published by Warner Bros Games, immerse yourself in the first world introduced in the Harry Potter books, and get transported back to the 1800s to craft your own story and decide the fate of the wizarding world.
Experience Hogwarts like you've never seen before on PlayStation 5, PlayStation 4, Xbox Series X and Series S, Xbox One, Nintendo Switch, and Microsoft Windows this winter.
Create your own character with the game's intricate character creation system that offers you multiple customization options to create the wizard of your fantasies.
Become the center of the story as you alone hold the answers to an ancient mystery that has plagued the wizarding world and threatens to bring about its destruction.
Experience unlimited exploration as the game lets you roam the world freely allowing you to visit iconic areas from the books and the movies such as Hogwarts Castle, the Forbidden Forest, Hogsmeade Village among so many others.
Using your ability to harness an ancient magic that hasn't been in use for centuries, face off against dark wizards, trolls, and other foes all while on your quest to uncover why the ancient magic has just now made a resurgence.
Pre-order Bonuses
If you make a purchase through these links, we may get a share of the sale.
Hogwarts Legacy Standard Edition ($69.99)
Preordering the Standard Edition of Hogwarts Legacy bags you a cool preorder bonus which is the Onyx Hippogriff Mount for your character.
Hogwarts Legacy Deluxe Edition ($79.99)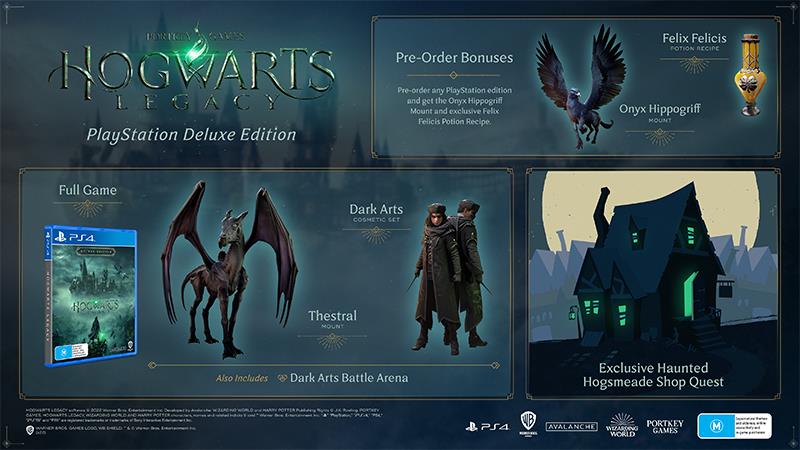 The Deluxe Edition of Hogwarts Legacy comes bundled with the most digital content as well as the preorder bonus on top. Included in this edition is:
Exclusive Haunted Hogsmeade Shop Quest
Felix Felicis Potion Recipe
Dark Arts Pack
Dark Arts Garrison Hat
PlayStation
Xbox
Microsoft Windows
Nintendo Switch
Hogwarts Legacy will be released on February 10th, 2023, and will be playable on PlayStation 5, PlayStation 4, Xbox Series X/S, Nintendo Switch, and Microsoft Windows.
Check out our other upcoming action games and upcoming nintendo switch games.