This game was released on November 04, 2022 and is no longer available to pre-order. Any incentives that were offered are listed below.
Shape a world of your choosing. Make choices that either elevate or destroy humanity in Humankind. Humankind is a historical strategy game stemming from the great minds at Amplitude Studios and published by SEGA. With over 60 cultures included, combine each of their strengths and shortcomings to mould a prosperous civilization. Steer humanity by actively taking part in historical events and making decisions that will make your people thrive.
Differentiate yourself from others through the endless possibilities this Autumn when Humankind arrives on Windows PC.
Flex your tactical capabilities in warfare with a combat system where terrain elevation and city building can give you a leg up or drag you down in times of war.
The game has a fame meter to compare players' progress, with every battle won and every moral choice made making a difference.
Rewrite history to create a civilization that is unique to you and show just how far you are willing to go to further mankind.
Pre-order Bonuses
If you make a purchase through these links, we may get a share of the sale.
Humankind Digital Deluxe Bonus ($10.49)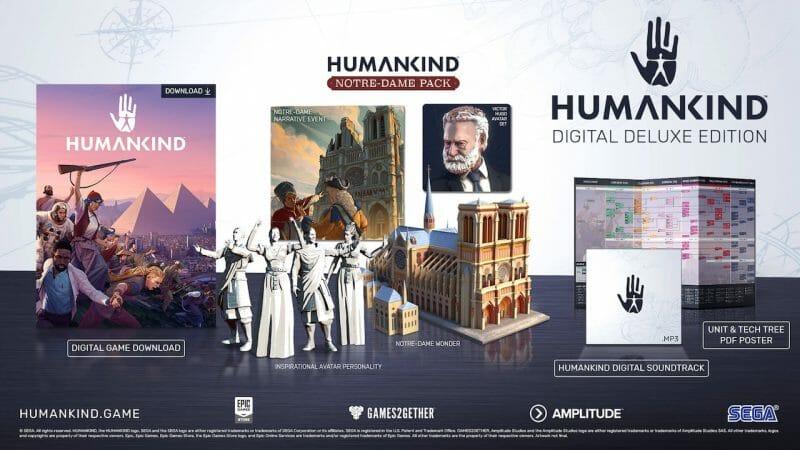 Purchasing the Digital Deluxe Bonus of the game after purchasing the base game unlocks a handful of in-game content such as:
The digital soundtrack (.mp3)
Unit & Tech tree poster (.pdf)
HUMANKIND™ Notre-Dame pack and more!
Xbox
Humankind will be released on November 4th, 2022, and will be playable on PlayStation 5, PlayStation 4, Xbox Series X|S, Xbox One, and Windows PC
Check out our other upcoming strategy games and upcoming playstation 4 games.