This game was released on January 12, 2023 and is no longer available to pre-order. Any incentives that were offered are listed below.
To mark the 25th anniversary of the long-running series One Piece, is One Piece Odyssey, a new action role-playing game. While sailing across the Grand Line, Captain Monkey.D.Luffy and his crew are caught up in a massive storm that shifts their course and strands them on a strange island. Separated from each other, the crew must regroup and reunite to uncover the secrets of this mysterious island.
Developed by ILCA and published by Bandai Namco Entertainment, One Piece Odyssey will be playable on PlayStation 5, PlayStation 4, Xbox Series X/S, and Microsoft Windows this Winter.
The game is especially special for fans as its development was overseen by the legendary author of ONE PIECE, Eiichiro Oda. He lent his talents to develop a new plot new characters and new monster designs for this game.
Play as any one of the iconic members of the Straw Hat Crew with Luffy, Zoro, Nami, Sanji and so many more all being playable characters.
Experience a pure RPG experience with some new twists, like a Dramatic Scene System that randomizes encounters and situations forcing you to think on your feet.
Pre-order Bonuses
If you make a purchase through these links, we may get a share of the sale.
One Piece Odyssey Standard Edition ($59.99)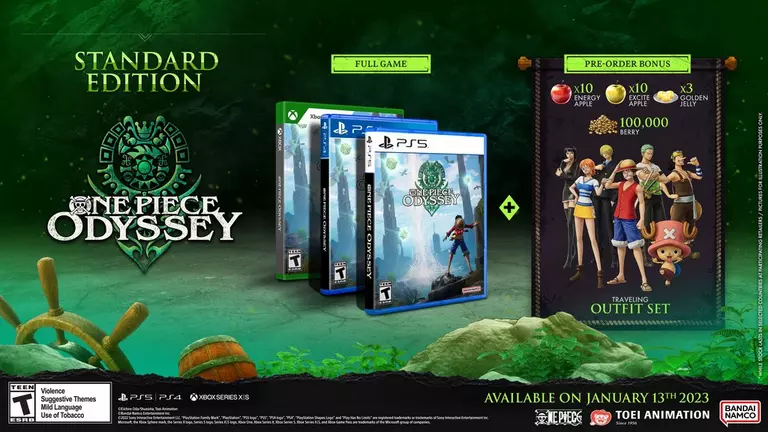 Preordering the Standard Edtion of the game bags you a great preorder bonus that comes with the following digital items:
Energy Apple x 10
Excite Apple x 10
Golden Jelly x 3
100,000 Berries
Traveling Outfit Set (Luffy, Zoro, Sanji, Usopp, Nami, Chopper, Robin)
One Piece Odyssey Deluxe Edition ($84.99)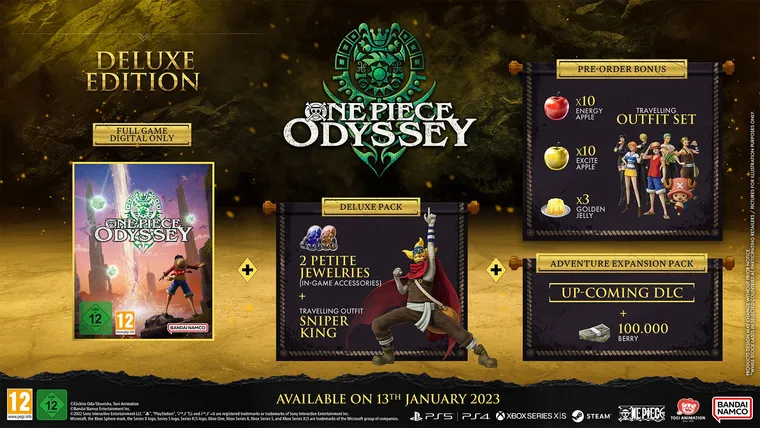 The Deluxe Edition of the game gets you a bunch of exclusive items on top of the already great preorder bonus. Included in this bundle is:
Main Game
Adventure Expansion Pack
Adventure Expansion Pack Bonus 100,000 Berries
Deluxe Edition Bonus: Sniper King Outfit Set
Invalid table id.
PlayStation
Xbox
Microsoft Windows
One Piece Odyssey will be released on January 12th, 2023, and will be playable on PlayStation 5, PlayStation 4, Xbox Series X/S, and Microsoft Windows.
More One Piece video games One Piece: World Seeker & One Piece: Pirate Warriors 4
No products found.
Check out our other upcoming rpg games and upcoming playstation 5 games.