This game was released on December 31, 2021 and is no longer available to pre-order. Any incentives that were offered are listed below.
Scarlet Nexus is an upcoming JRPG developed by the talent behind Tales of Vesperia and published by Bandai Namco. Players assume the role of Yuito Sumeragi, a new recruit to the Other Suppression Force (OSF), which is humanity's last line of defense against deranged mutants known as Others. While Others are immune to conventional weaponry, the OSF wield psionic abilities that allow them to go toe-to-toe with them. Yuito himself possesses the power of psycho-kinesis that enables him to lift or break anything in his vicinity and hurl it at the enemy.
Pre-order Bonuses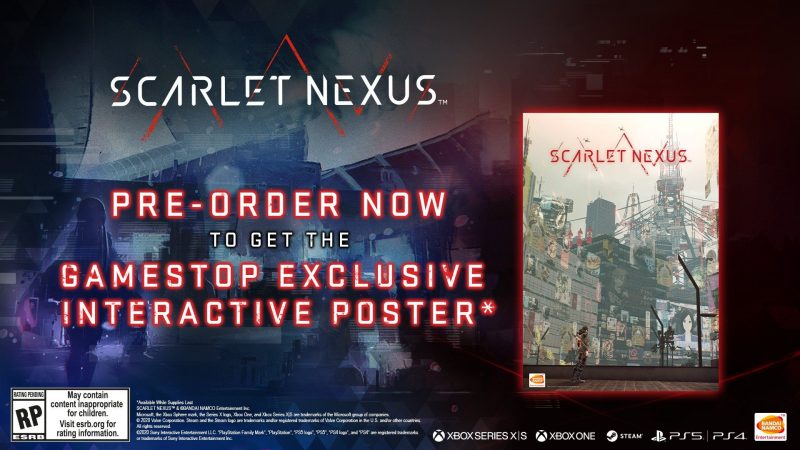 Pre-order Scarlet Nexus at GameStop to receive an exclusive Interactive Poster depicted above. The poster features the game's protagonist Yuito Sumeragi, a new recruit of the OSF. (If you make a purchase through the link, we may get a share of the sale.)
At the time of writing, no other pre-order bonuses or special editions were announced, but we'll keep an eye out.
Scarlet Nexus is expected to launch for current and next-gen Xbox and PlayStation consoles as well as PC in 2021.
Check out our other upcoming action games and upcoming pc games.